!-GénérEpar Avanquest Technology v:8.0. Pour plus d'information, visitez : http://www.avanquest.com -->
About EVAP Solutions
EVAP Solutions specialise in high vacuum and thin film deposition technology. With over 30 years combined experience we have developed an expert technical foundation and fault finding ability. We are fully committed to our customer's technical and financial requirements by offering high quality services and competitive prices.

We offer an extensive selection of services to companies globally. Our dedicated engineering support ranges from start-up R&D facilities to global organisations with multiple large-scale production plants. Our services cover most leading manufacturers of vacuum equipment and components whilst our central location allows swift response time to emergencies. We pride ourselves on a flexible and professional service.

Using EVAP's extensive experience and expertise in coating technology we are able to provide innovative solutions to a wide range of vacuum engineering problems. Our technical staff are always pleased to discuss your individual requirements so please contact us.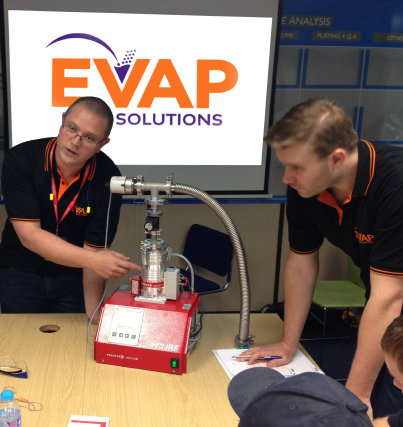 +44 (0) 7525 747 884
+44 (0) 7581 012 082